CDP Business Matching con ICCI I Focus macchine agricole, trasformazione alimentare e catena del freddo
Cassa Depositi e Prestiti (CDP) has partnered with The Indian Chamber of Commerce in Italy (ICCI) to promote CDP Business Matching, the new digital platform connecting Indian and Italian companies.
The tool, developed by CDP in collaboration with the Italian Ministry of Foreign Affairs and International Cooperation, allows companies to access a network of selected high-level counterparts and organize virtual B2B meetings to develop strategic business cooperation ranging from agency, commercial and distribution partnerships to industrial partnerships.
Specifically, CDP Business Matching and ICCI are collaborating to promote business ties between Indian and Italian companies in the agricultural machinery, food processing machinery, and cold chain sectors. An introductory webinar and the first virtual B2B meetings were held on Wednesday, November 23, 2022. The initiative was organized under the patronage of the Embassy of Italy in India and the Ministry of Food Industries, Government of India, in collaboration with CONFINDUSTRIA, the All India Food Processing Association (AIFPA) and the Agricultural Machinery Manufacturers Association (AMMA).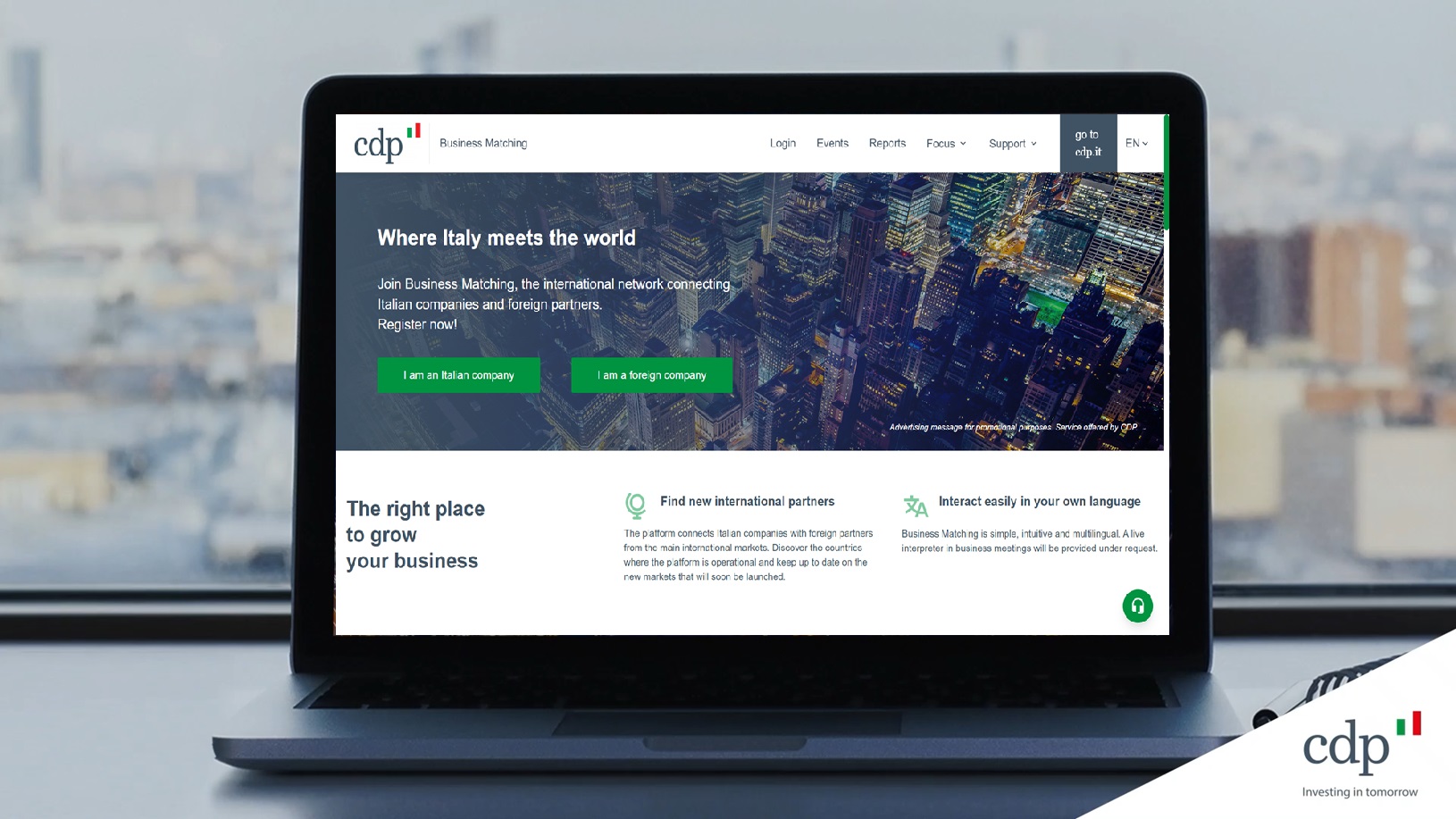 How it works
By registering for free on the CDP Business matching website (link https://businessmatching.cdp.it/en/welcome) using the promotional code ICCI2022, companies are invited to select their business objectives and describe the ideal business partner they would like to meet.
Registered companies will periodically receive notifications of possible matches and the relative percentage of affinity based on their profile.
It will be possible to view the information on the counterpart and choose whether to accept the proposed matches or not; a virtual meeting can then be arranged in a dedicated and protected space within the platform, with the possibility of requesting a live interpreter.
The platform also offers digital events and webinars to explore markets and topics of interest and provides news, expert interviews, and success stories.
Register now and join CDP's Business Matching network!
More details on how to register are available here! 
Who is CDP? 
Founded in 1850, Cassa Depositi e Prestiti (CDP) is the Italian National Promotion Institute, aimed at promoting the medium and long-term development of the Italian economy. CDP was established in 1850 and is today a joint-stock company under public control. The majority shareholder is the Italian Ministry of Economy and Finance (83%).
CDP Group held total assets of 512 billion euros in 2020 and a net profit of over 2.8 billion euros. This makes CDP one of the largest institutions in Italy in terms of assets. The Group works relentlessly to support the internationalization of Italian companies and commercial relations with foreign companies. It is also the Italian Financial Institution for Development Cooperation, committed to promoting sustainable growth in developing countries and emerging markets.
For more information, see the official website: https://www.cdp.it/.