NEW PARTNERSHIP: Transparency International Italy and the Indian Chamber of Commerce sign a 2 year partnership
Milan (Italy) Feb. 16th, 2023 – ICCI is proud to announce that it has signed a new 2 year partnership with Transparency International Italy. Ahead of Delhi G20, the collaboration between nongovernmental organizations and "business" is strengthened to actively combat corruption in the public and private sectors. The Anti Corruption Working Group will meet in Gurugram from March 1st to the 4th , in conjunction with the Foreign Ministers' meeting in Delhi
Transparency International Italy and the Indian Chamber of Commerce in Italy have signed a Memorandum of Understanding to collaborate on the implementation of initiatives to promote and spread the culture of legality and transparency to Italian & Indian companies and associations.
Today, Italy ranks 41 out of 180 countries in Transparency International's CPI2022 Corruption Perception Index with a "score" of 56 points, but Italian policies and strategies are exemplary cases in the fight against crime, so India (which ranks 85th with 40 points) has involved Italian institutions in organizing work on the topic of countering corruption.
The MOU envisages collaboration in supporting the culture of legality, promoting practices and tools to prevent and counter corruption, using the occasion of the G20 to be held in India and organizing events and seminars open to businesses on:
Whistleblowing
Knowledge and compliance to support the culture of legality and integrity
Technological and IT tools for transparency
Joint actions and strategies for international position papers

"We want to intensify our contribution to the fight against corruption by mirroring the institutional collaboration already initiated by the governments of India and Italy in the G20." – said Iole Anna Savini, President of Transparency International Italy – "To fight an international problem you need international solutions, practiced with continuity and seriousness. With this agreement we make our experience available to businesses in the two countries by spreading the culture of legality."
"The culture of legality is one of the pillars for the development of healthy and ethical business relations between companies from different countries." – commented Marina Vienna, Vice-President of the Indian Chamber of Commerce for Italy – "In our institutional capacity, ICCI will do what it can to spread this business culture among its members and in its network."
Click here to view the Official Press release.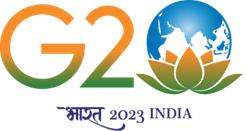 The Indian G20 Presidency has chosen anti-corruption as one of its priorities for 2023.
An Anti-corruption Working Group jointly chaired with Italy will aim to define a Compendium of Best Practices on the effectiveness of anti-corruption policies.
For any queries please get in touch with our team at Segreteria@icci.it